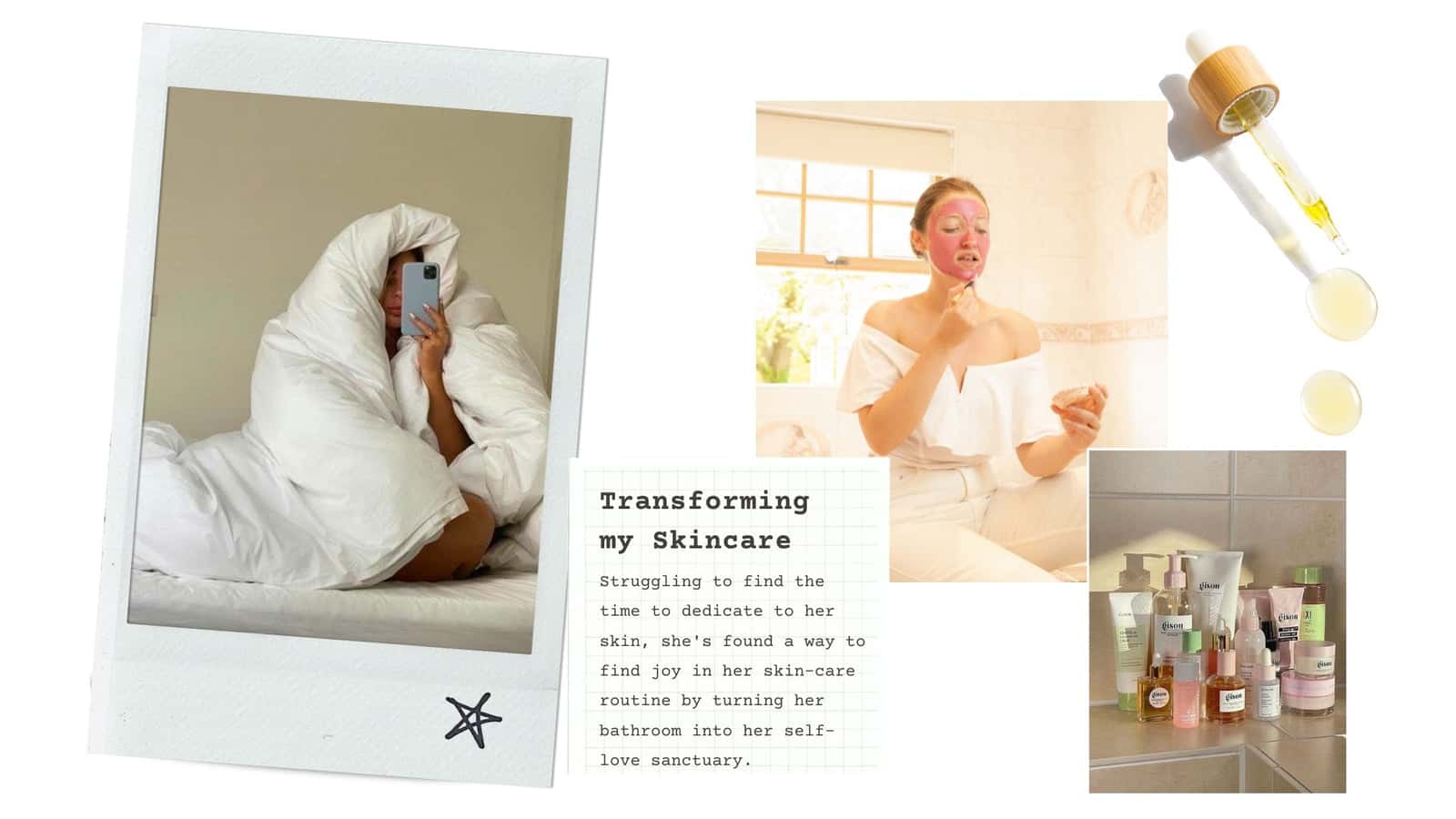 Transforming my Skin-Care from Laborious to Glorious
Amy talks about how shes transformed skin-care from laborious to glorious. Struggling to find the time to dedicate to her skin, she's found a way to find joy in her skin-care routine by turning her bathroom into her self-love sanctuary.
Transforming my Skin-Care from Laborious to Glorious
In my teenage years, I was a bully. My victim - my skin. I'll be the first to admit that I was never really very enthusiastic about skincare, despite growing up surrounded by YouTubers and Influencers perpetuating their daily cleansing routines and 'skin saviours'. I was dreadful for buying fancy, fragrant facial products, with the intentions of becoming a fresh-faced goddess and inevitably deserting them in the bathroom cupboard until they go a little lumpy, beyond the point of usefulness.
The last chore of the day - my skincare routine - inevitably never got ticked off the list
Despite my mother's chastisement that my negligence would wreak havoc on my skin in later life, the problem only worsened when I left home to go to University. As an avid student-procrastinator, most chores and tasks in my life were left to the last minute. This, more often than not, resulted in me running around like a headless chicken in the hour before bedtime in a rueful attempt to complete the tasks of the day that I have been putting off for the subsequent fourteen hours. Consequently, the last chore of the day - my skincare routine - inevitably never got ticked off the list (along with probably five other things that I substituted for getting a somewhat respectable amount of sleep). I would regularly fall into bed alongside my full face of make-up and, craving the fraction of extra sleep I could get before the next morning's lecture, I'd skip remedying the previous night's slackness with a quick wipe in place of a proper cleanse as I'd dart about readying myself for the day that I was already running late for before it'd barely begun.
After this lengthy torrent of abuse, I had started to notice the toll it has taken on my skin. I was very fortunate that it'd been as resilient as it had. Nonetheless, I'd notice the dullness of my complexion daily, the breakouts caused by night after night of clogged pores and the general icky-ness knowing it'd been disgustingly long since a proper cleanse. And that's not to mention the state of my pillowcases…
Clearly something needed to be done. I wanted Mary Poppins to zip in and make my dull 'chore' of skincare a fun game… But in reality, I had to sort myself out with a change of attitude. I had to reframe my perspective on something which, since my teenage years, had always seemed such an upheaval to complete every. single. day.
The first thing to adjust was my superpower of procrastinating wherever possible and my ability to be distracted by a speck of dust. I had to pack-in putting things off and start getting on with the task in hand. I started setting myself a timer for my morning routine to ensure that there was no room for diversion. In the evenings, I set a reminder to stop whatever I was doing at a certain time and wind down for bedtime. However, this rather authoritarian approach to my own life was not the most enjoyable start and end to my day. I still lacked something to motivate me to stick to this new regime.
I think a large part of my problem came from an inability to concentrate on one thing at a time. During my simple routine of 'remove, cleanse, tone and moisturise' I found myself thinking of all the other things I could be doing (or longing for 15 minutes of extra sleep). And yet, in reality, I would most likely just waste that time with scrolling through social media which detracted just as much, if not more productivity from my day.
As a result of my hands being occupied by a task which doesn't require much brain power, my mind was allowed to dwell on my always-lengthy list of tasks which made me itch to be done with the one in hand (quite literally). Whilst my timer tactic had eradicated the social media scrolling, I'd be lying if I said I didn't feel the pull to go back to this habit. To kill two birds with one stone, I started perching my phone on a little ledge on my mirror, so I could watch or listen to a short video or podcast whilst my hands took care of my skin.
After a couple of weeks, I started noticing my skin getting brighter, softer and clearer- it seemed my face was enjoying the new routine as much as I was! I relished this daily dose of allotted time to myself away from the commotion of everyday life. My bathroom became my sanctuary. I started to cherish this time so much, that I made time for a lengthier, weekly 'pamper session' where I could take time looking after not just the skin on my face but my whole body. The lotions and potions in my cupboard that had long been overlooked were now revived and put to use. I had time for hair masks, face masks, painting my nails, styling my hair, experimenting with make-up- the list goes on! This made a noticeable difference to my appearance, but more so than that, I started enjoying myself and it made me feel good! Not just because I looked better but rather because doing it made me take some time for myself where normally I wouldn't stop.
I'm definitely not saying I'll become one of the beauty gurus you see on Insta or YouTube, but I do now have more of an idea of what they rave so passionately about. It's discovering what works for you and the elements of skincare that you enjoy. For me, that's making a sanctuary for myself away from the hustle where I can appreciate the time to relax, rather than shoehorning it in amongst a million other things that I should be doing. I can't wait to add this clay mask to my pamper routine and continue my self-love in my bathroom sanctuary. Although, I do still need to put my washing on…
---
Can you relate to Amy's story of struggling to find the time to give back to yourself and your skin? If you feel inspired to make a change with the way you treat your skin, let it be adding the PERL Cosmetics British Pink Clay Mask into your weekly routine. You deserve to feel fabulous, self-care isn't a luxury it's a necessity!