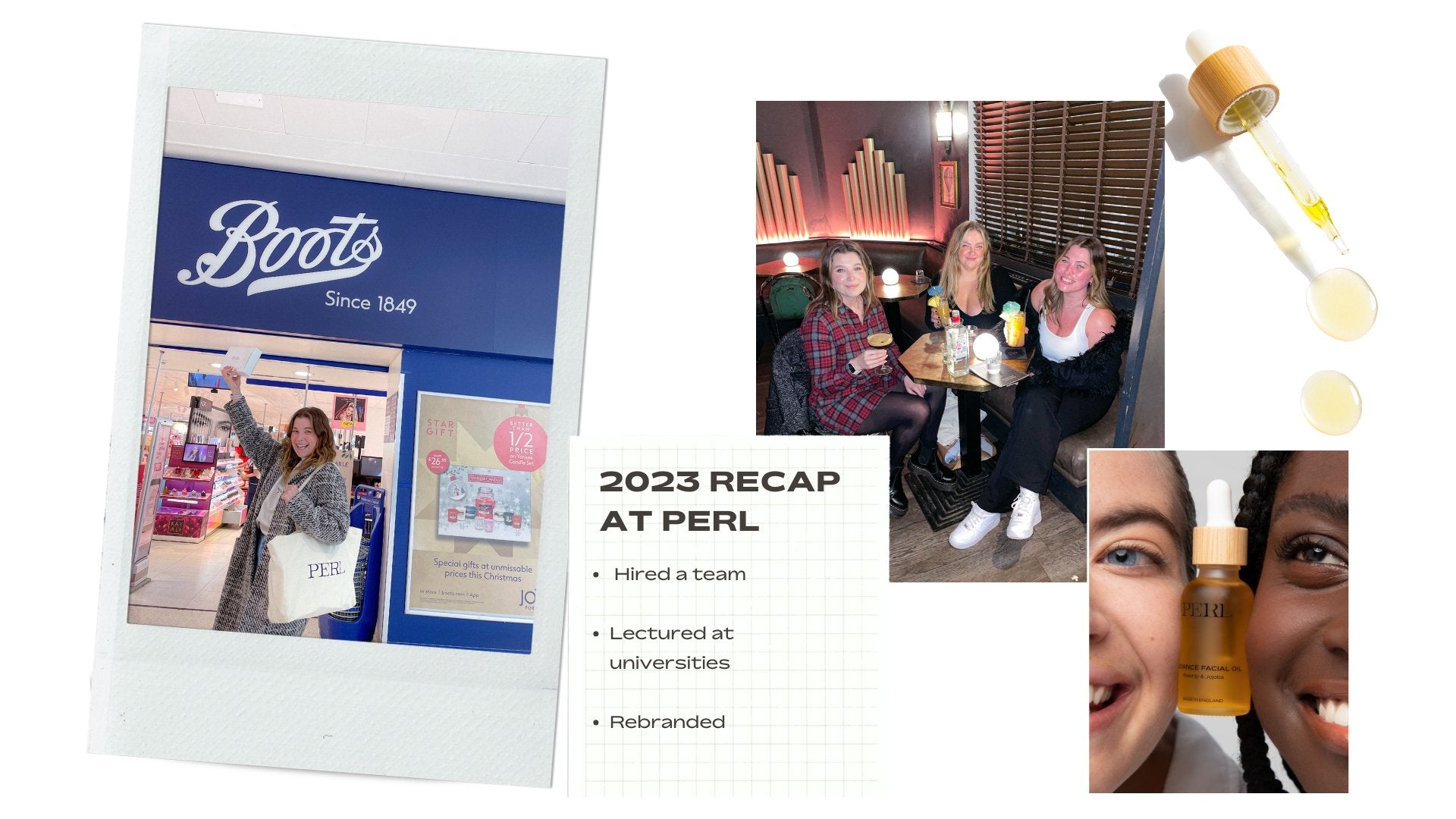 PERL 2022 Recap - What happened this year?
2022 has been a BIG year for all of us here at PERL, and we truly couldn't have done it without all of our incredible customers.
I've invested a lot in PERL this year, from time, to money to much more. Often running a small business can feel like an endlessly uphill climb when you don't quite see the fruits of your labour returning. 
However, business is a marathon, not a sprint and I keep telling myself to continue pushing on and the hard work will pay off soon. 
Despite 2022 being a difficult year for us all as we navigate the rising cost of living, there have been some incredible memories made at PERL.
Here's some of my highlights
I've hired a team
This time last year, I was a one woman show with the occasional help of my office assistant Hannah - she was the first employee to come on board on a regular basis in 2022. While Hannah has now left the team as she goes off to university, she was an invaluable part of PERL this year and helped with everything from packing orders to creating the skincare!
Next on board was someone I've been friends with for years, Emily G, my marketing manager. She works on everything from our social media and email marketing, to working out the logistics behind our business too.
Ellie was brought in as my graphic designer who worked on our rebrand (more on that to follow!), designing the new look for PERL alongside our new stunning retail boxes.
Evie joined us for a few months as part of her university course, and worked on content creation for TikTok as well as organising our incredible rebrand photoshoot at her university in Bournemouth.
And finally our newest member - Emily H. Emily replaced Hannah as chief order packer and skincare creator - but she's also our marketing assistant working on our social media and influencer programme.
I can't believe the changes I've seen in PERL this year in just staffing alone and I'm excited to see what 2023 brings us in this area. 
I've given talks at universities
If you had told me five years ago I'd one day be giving lectures at universities - there's no way I'd have believed you. 
But it's funny how the world works, and I ended up not only sharing my of starting PERL back at my old univeristy, the University of Nottingham, but also Nottingham Trent University too.
I spoke to the students about my experience of setting up a business during the pandemic, and the most important lessons I've learnt along the way.
I've rebranded the business
Back in 2020 when I started the business I didn't pay too much thought to my logo and everything else that came along with the branding side of the business. I was happy with my logo, it was pink and girly and worked well enough, but I was more focussed on creating an incredible product and getting my business off the ground.
Two years in, I knew that the future success of PERL involved a new, more grown-up, professional look. With the help of Ellie, my in house graphic designer, and Chloe my childhood friend who is now an incredible graphic designer - I began the long process of rebranding my business.
I couldn't be happier with the results, and I feel this has shifted PERL into a new era. 
I've launched new products
Launching any new product is a terrifying experience for a business owner, and it's even harder when you're formulating everything yourself! So many iterations go into our skincare development, as well as a long process of testing and monitoring how these products affect different skin types. 
So after a long process, I formulated from scratched and eventually launched our brand new French Green Clay Mask. The formula is deeply cleansing and has a calming effect on the skin, working to not only draw out impurities, but reduce redness and acne scarring too. 
In addition to our new skincare, we released some new accessories too. Our customers told us they needed a place to store all their different PERL skincare bits, so we launched our new Waffle Cosmetics Bags, the perfect place to store everything! To complete the clean girl aesthetic look, we gave you our new Canvas Tote Bags, the perfect way to complete your collection.
So here's the lowdown on what you, our customers, have been buying this year...
PERL 2022 Recap
Here's how you shopped PERL this year:
You bought 3,855 products

You spent on average £34.80 per order

We sent out over 300kg worth of our British Pink Clay

Over 24% of you couldn't get enough & came back for more

11 of you shopped from PERL more than 9 times
You visited our website from all over the world, with over 68,933 sessions
This year you couldn't get enough of our three best-selling products:
And on Black Friday you loved: