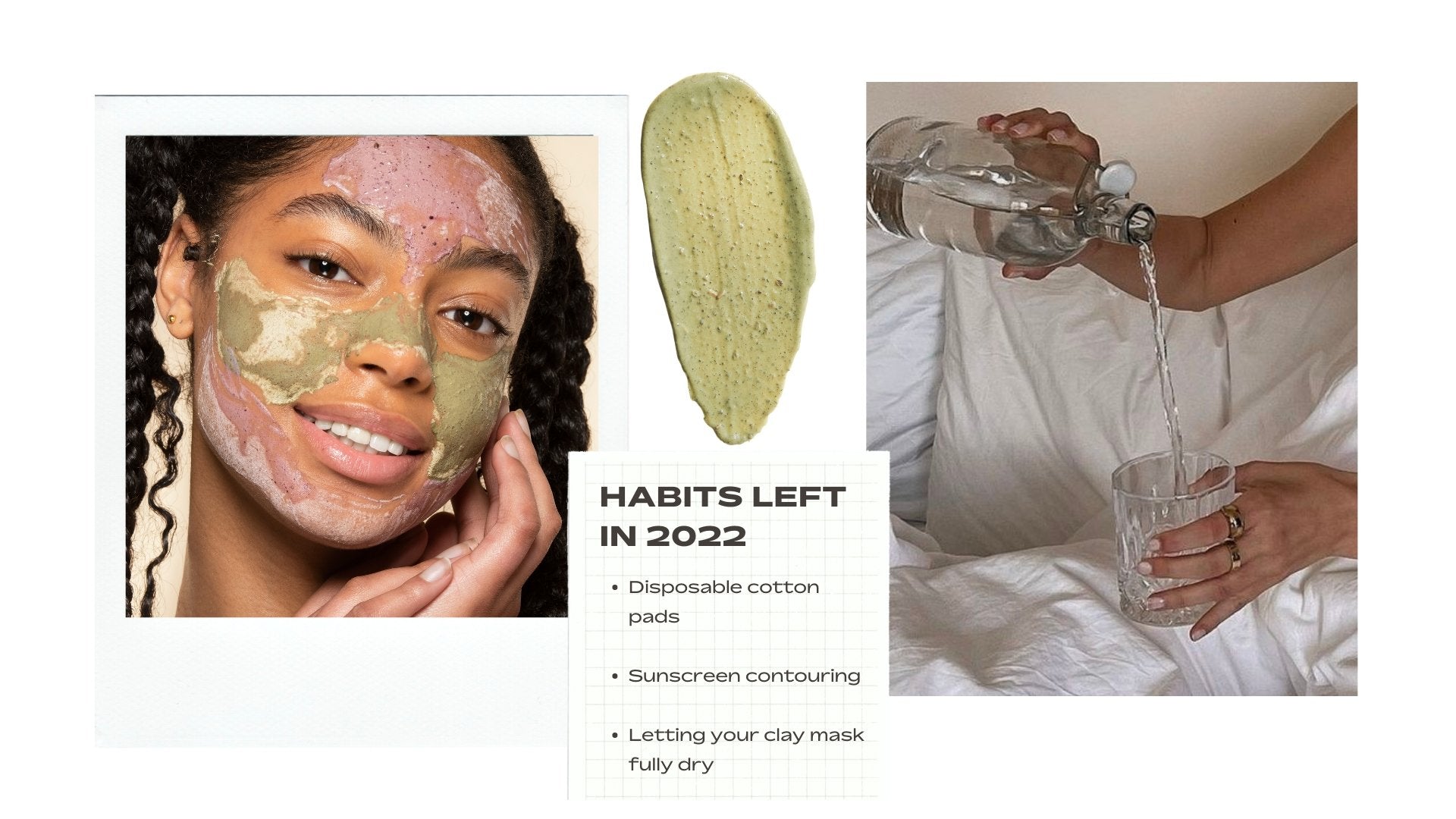 Skincare habits we need to leave in 2022
If it ain't broke, don't fix it - right?
Well maybe not. There are countless beauty and skincare habits many of us have been doing for years, but this doesn't mean they're good for our skin, wallets or the environment.
So what habits should we be leaving in 2022?
Using disposable cotton pads
Using just three disposable pads a day means you're contributing to over a thousand ending up in landfill every year. Worse still, these pads continue to be flushed down the toilet causing pipe blockages and even the dreaded 'fatberg' (a horrible mass of hair, grease and cotton wool!)
This wastage is completely avoidable too, with so many alternatives options available. Our re-usable bamboo cleansing pads are a cheap, yet effective way of replacing these disposable pads in your routine. They can be used to remove your make-up, apply your toner or help you take off your favourite clay face mask (such as our best-selling British Pink Clay Mask).
When you're done, simply put them in the washing machine (in their handy bag so they don't get lost) and you can continue using them time and time again.
Alternatively - simply use your hands! Your hands and fingers can be one of the most effective tools when cleansing your face. Make-up can be removed using a good cleansing balm, followed by a facial wash, or apply toner directly to your face with your fingertips. 
Using make-up wipes
Are you using make-up wipes to remove your make up everyday? Not only are they terrible for the environment - they're also likely to be stripping your skin of moisture too. Over time this is causing your skin to either appear dull and tight, or to over-produce oil causing breakouts and enlarged pores. 
As an alternative try using a cleansing balm or oil based cleanser, these can melt away make-up or the daily dirt on your faces in seconds. 
Letting your clay masks dry fully
We will NEVER. STOP. PREACHING. THIS!!
Allowing your clay mask to fully dry on your skin will cause the mask to start drawing out moisture from your skin. 
The early stages of mask drying is the time when the kaolin clay works to absorb bacteria, dirt and excess oil to work to clear and brighten your skin. However, leaving the mask for too long will cause the mask to pull out the moisture leaving your skin tight and dehydrated. 
So even though we all love watching the mask dry and flake off - make sure you're washing it off around the ten minute mark, or when it begins to look like it's drying in places.
To prolong your masking time, spritz your face with a hydrating facial spray to slow down drying time. 
Always follow up any clay mask with a super hydrating moisturiser or deeply nourishing facial oil.
Washing your face in the shower
We love a time saving queen - especially with the rising cost of living, but did you know that washing your face in the shower could also be stripping your skin and damaging your barrier?
The reason for this is simple - the water temperature. Typically we shower at a much warmer temperature than is needed to cleanse our faces, and this excessively hot water can leave your skin feeling dry, and then over producing oil to compensate. 
Try turning down the shower to cleanse your face, or wash your face at the sink after your shower. 
It can often be tricky to remove your clay mask from your face once it's dried down, and often we find washing in the shower the easiest solution. Try using re-usable cotton pads to aid removal instead. 
At home micro-needling or derma-rolling
Micro-needling is the process of using a derma-roller, a roller brush with lots of tiny little needles all over it, to puncture the skin and stimulate collagen production and increase cell turnover. Increasing numbers of people have been buying derma-rollers to try out the process for themselves at home.
While dermatologist led micro-needling can be incredible for the skin, it's important that it's only done in the clean and sanitary environment of a licensed aesthetician or dermatologist. 
At home micro-needling can carry more risks that outweigh the potential benefits. Home environments will not be able to sterilise equipment to the level necessary, and the kind of derma-rollers you can buy for home use are likely to not be able to penetrate the skin deeply enough to see any benefit. 
Visit a professional for any beauty treatments like micro-needling. Alternatively you can aid cell turnover at home using our British Pink Clay Mask, and as you rinse off it provides gentle skin exfoliation too. 
Sunscreen contouring
Back in summer 2022 (how long ago does that feel now?) we saw 'sunscreen contouring' trend on TikTok, seeing users only apply sunscreen to the areas of their face they would highlight, leaving the rest of their face with little to no protection. 
You should be applying sunscreen to your ENTIRE face everyday - even in winter. Sun damage not only shows the first signs of aging, it can also increase your risk of skin cancer. This is one trend to definitely leave in 2022. 
Ensure your skin stays hydrated throughout the cold winter months by using a facial oil to lock in moisture.
What other habits should we be leaving in 2022?