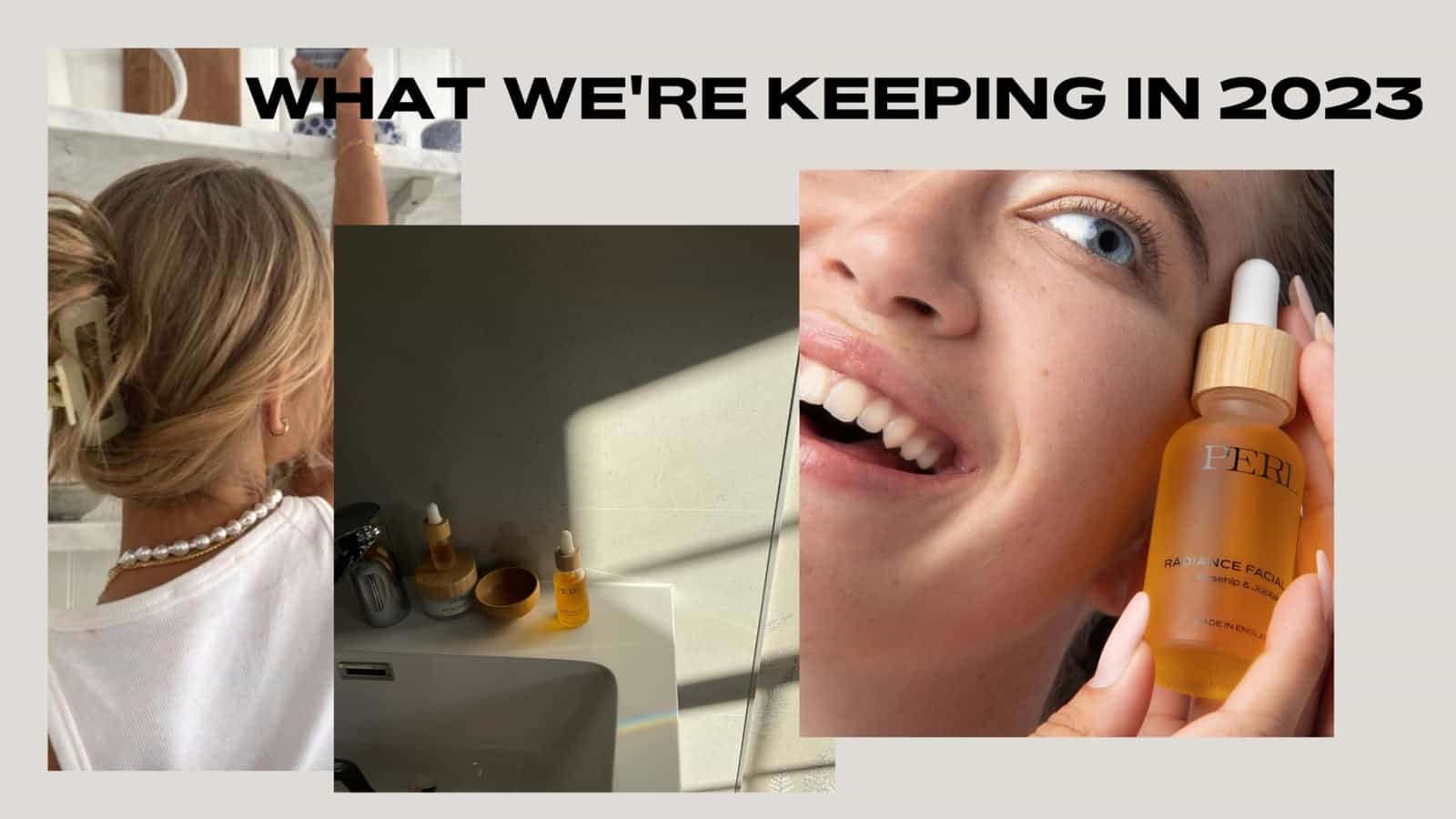 Skincare trends we're keeping for 2023
Last week we spoke about what skincare and beauty habits NEED to be left back in 2022 - but what habits should we be looking to keep?
Using oils - even if you have oily skin
Sounds contradicting, right? Well it's actually not, and even those with an oilier complexion should be incorporating a facial oil into their routine, and it can even help banish breakouts and acne. 
If your skin is constantly oily, broken out and getting shiny throughout the day, its likely down to your sebaceous glands producing excess oil, resulting in blocked pores.
It's common to try and get rid of this oil by over washing, under moisturising and generally trying to strip the skin using alcohol packed products. This completely strips the oil from your skin, resulting the skin compensating by over-producing oils. This turns into a vicious cycle of stripping back followed by over-producing and an endless battle to combat your oily skin.
Ensuring your skin is hydrated is key to controlling oily skin. Using a facial oil replenishes moisture and helps form a protective skin barrier.
It's important to be using a light oil, such as jojoba, evening primrose, aloe vera, tea tree oil, marula, squalane, or grapeseed. Our Radiance Facial Oil is perfect for oily skin as it's packed with these nourishing yet light oils.
Keeping skincare routines simple
The twelve step routine is out, and simple is back in. Also known as 'skinimalism', this kind of routine involved cutting back to the essentials. 
Skincare can be overwhelming, with so many messages of what to use, what to avoid and which ingredients can have a certain effect on the skin. 2022 saw the rise of pared back routines which included the essential steps only.
Cleanse 
Moisturise
Serums
SPF (during the daytime)
Include a mask once a week (we recommend our British Pink Clay of course)
Wearing SPF daily
Now this one is nothing new, but it's definitely something to continue in 2023. 
Your skin needs daily protection, even if you're not exposing your face to direct sun. Whether its cloudy and rainy, or even if you're staying inside it's important to protect your skin from the UV rays that can still cause damage and signs of aging. 
Ensure you're using a high enough factor, your face needs around 50 SPF protection. Moisturisers and foundations with built in SPF are not usually protective enough as the amount you would have to apply for the right levels of protection are simply impossible. Products like these are a great way to add extra protection but they should never replace a proper SPF.
Sustainable skincare choices
More and more of us each year are looking to be more eco-friendly in our approach to beauty routines. Consumers look for cruelty free products, and choose those which have ethically sourced ingredients. More are also choosing skincare products which have recyclable packing or have refillable options.
Our products all come in refillable options, our Radiance Facial Oil, Calming Mask Oil and Illuminating Mask Oil can be ordered with a recyclable aluminium lid, which can be recycled and replaced by your original dropper lid. 
Both our British Pink Clay and French Green Clay can be ordered in our new cardboard refill packaging. The powder can then be poured into the original glass jar and the carboard pot is recycled.
Skincare transparency
It's simple, people want to know what's in their skincare. No one wants a long list of ingredients they don't understand and can't even pronounce, and more of us are realising that "more" doesn't mean "better".
Skincare brands need to be open and transparent about their ingredients and let their communities know not only what the ingredients do, but why they've been chosen.
All PERL skincare is formulated in house, with absolutely no "filler" or unnecessary ingredients. Each formula is carefully researched and each ingredient is included for the specific skincare benefit it can provide.
The "clean-girl look"
If you're on TikTok, then you'll undoubtedly have seen the "clean-girl look" everywhere this past year.
This look focuses on incredible skincare prep before applying make up, with a super minimal and light coverage look. We are so here for it.
Complete the look with a claw clip bun and tote bag.