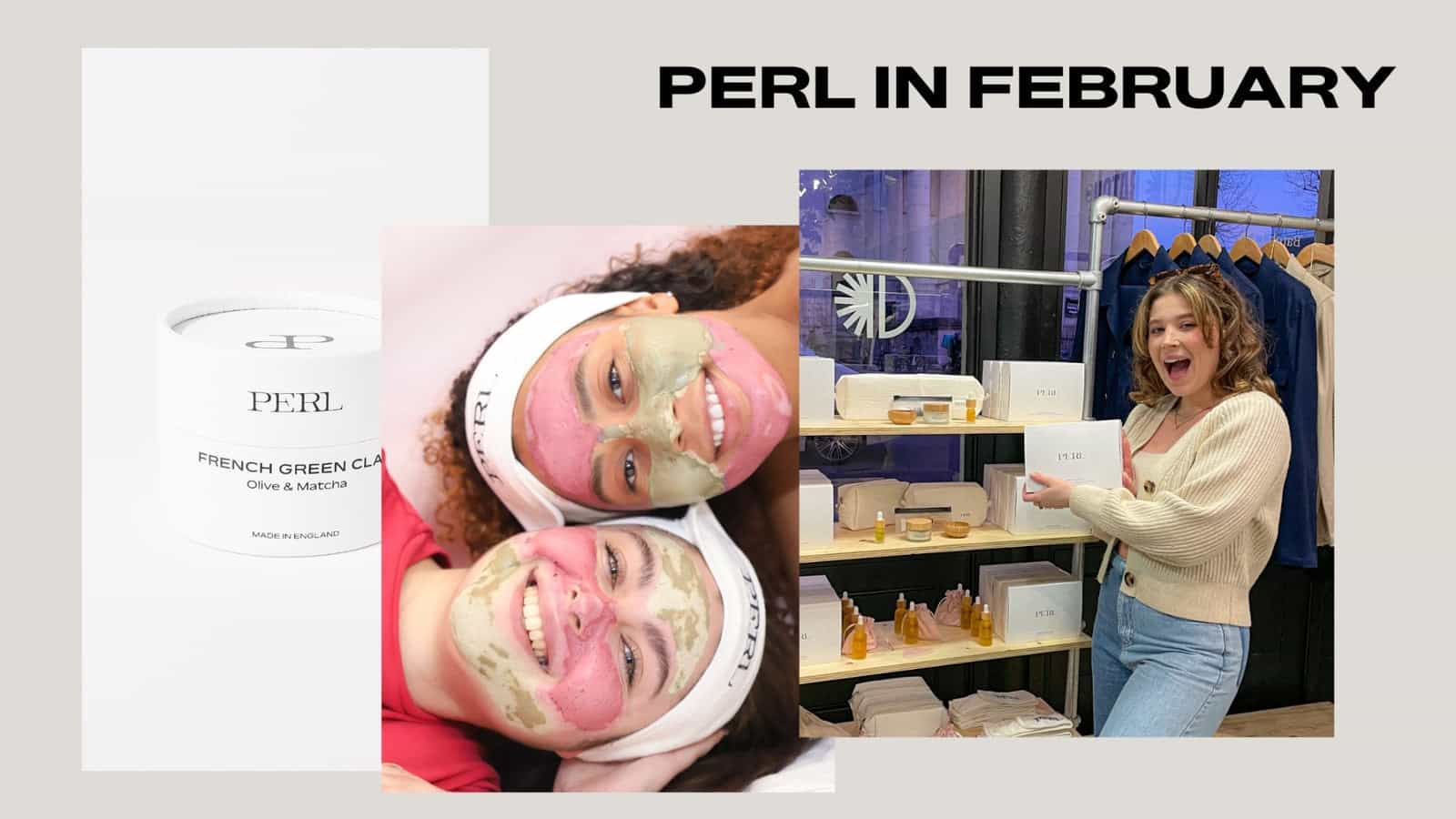 What happened at PERL in February?
Our London Pop-Up in partnership with Batch LDN
For two weeks in February we teamed up with our friends at Batch LDN to host a PERL counter in their London pop-up store. The guys at Batch create slow and sustainable fashion in the form of their incredibly stylish two piece unisex suits, in the coolest Shoreditch setting. Alongside the suits they showcased some amazing fellow small businesses in the shop, and we were delighted to be invited to be a part of this project.
Thank you to anyone who dropped by to visit our spot in the store and say hello to Isobel whilst she was there. We're looking forward to doing more London pop-ups and one day becoming a permanent fixture in a London store…
A campaign shoot with Daisy 
Daisy is an incredible photographer we've worked with many times at PERL as she always captures such stunning photos for us. Our latest shoot was no exception, we can't get over how great the green clay mask looks!
We launched our new Green Clay Mask in cardboard recyclable refill packaging
Sustainability is at the heart of PERL, and we hate unnecessary waste. Ever since the start we've offered refill options of our products – with a recyclable aluminium lid for our oil bottles and a paper recyclable bag for our powder clay.
When it came time for our rebrand in August, these bags were re-vamped into the new cardboard pots we now offer our powder clay refills in. You've been able to shop our British Pink Clay in these recyclable options – but we now offer our new French Green Clay with this delivery option too!
When ordering your refill -, save your empty glass jar and simply tip the contents of the recyclable cardboard container in! For our oils, hang on to your glass dropper lid and recycle the aluminium lid that comes in your delivery. Remember to select the aluminium lid or cardboard packing option when placing your order!
What's coming up in March?
International Women's Day!
We of course think women in business need celebrating every single day - but it's nice to have a day dedicated to it!
We'll be sharing lots of IWD content over on our Instagram, including some of the incredible women we've met along PERL's journey plus a HUGE giveaway...
World Book Day
No, we won't be dressing up as our favourite literary characters unfortunately, instead Isobel will be sharing some of her favourite books, including those that have helped her as a business owner.
And finally - Mother's Day
And we'll be doing something to celebrate all the mums! Watch this space...