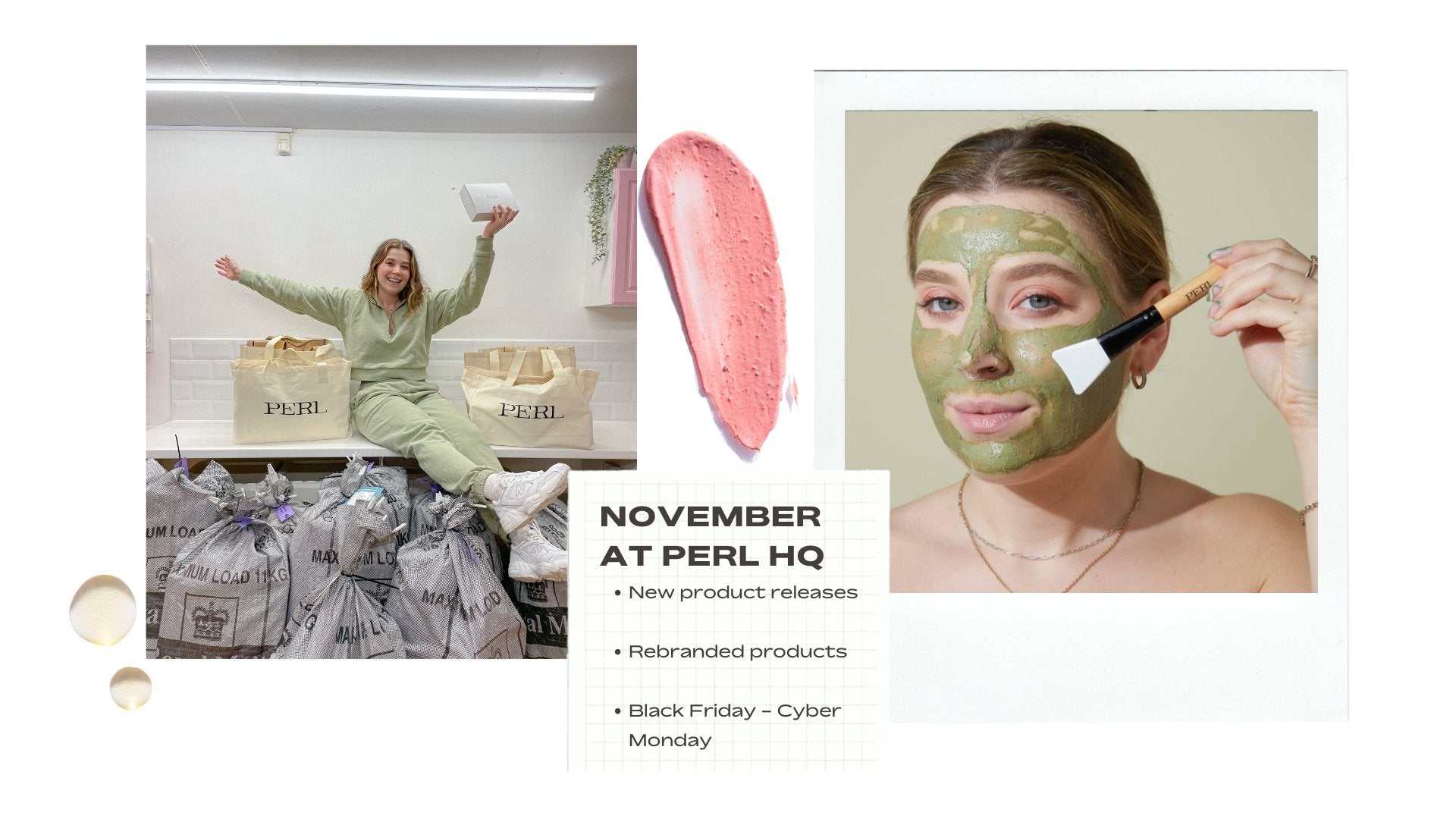 What's been happening at PERL this November?
This November has been CRAZY here at PERL, and I couldn't have done it without all of you!
New product releases
We launched our brand new French Green Clay Mask, which I am so excited about - it's a super calming formula and perfect for rejuvenating tired winter skin. Have you tried it yet? 
Prior to launching we trialled the new Green Clay with a group of 24 testers, all part of our VIP customers group! This incredible group of girls tried out the mask and reported back on how they found it. I was so happy to get so many positive comments from the girls loving the calming and hydrating effect it had on their skin. Thank you girls!
(Pictured here: Issie & Rachel)
We've also launched our new Waffle Cosmetics Bags, the perfect place to store all your PERL skincare! 
The cosmetics bags are made of a super soft cotton, equal parts chic & practical, our bags are the perfect size to store your skincare, makeup & other lotions & potions. 
But what about when you're out and about? Our new Tote Bags are the perfect accessory to complete any outfit - and they fit so much inside! They're crafted from a thick cotton canvas, complete with a screen-printed PERL logo our tote bag is perfect for everyday use and is big enough to hold your laptop, books and even gym wear. There's even a handy zipper pocket inside to keep your valuables safe, from loose change to your phone. 
Rebranded product releases
Since our rebrand last month, we've had so many messages asking whether we'll be bringing back our refill options. Sustainability has always been at the heart of everything we do at PERL and being able to offer our British Pink Clay Mask refills in recyclable packaging was something I wanted to continue. To bring these in line with our new look, the craft paper bags are gone, and we now have these cleverly designed carboard pots, which are completely recyclable. 
There are so many sustainable swaps that can be made in our everyday skincare and make up routines. I haven't used cotton pads in FOREVER as the reusable options are so much better for the environment and are super quick at removing either your clay mask or your make up at the end of the day. We've released our newly re-branded Reusable Cleansing Pads, which now come with five pads (instead of the previous three). They're a slightly smaller size which makes it easier to use them to remove your make up too. 
And finally, we brought out the new white versions of our classic Bamboo Spa Headbands, the perfect addition to any selfcare session and great for keeping your hair off your face when doing your clay mask or make up.
WOW - even writing this now I can't believe we've done so much this month! Have you got any of these new products yet?
Black Friday weekend
And FINALLY, we've just come off our Black Friday weekend high, it's been the most orders I've had in so long and I am so grateful to everyone who supported of PERL or any other small businesses this Black Friday.
I hope you were able to treat yourself (because we all deserve it) or you managed to get some Christmas presents for others this Black Friday weekend! It's felt absolutely manic wading through the endless offers and discounts that small business owners will never be able to match.
What's coming up in December?
We are SO excited for December, because we'll be doing 12 Days of Christmas! 
This means we'll have a new Christmas offer for you, every day for the first 12 days of December. You'll have to check our
socials
and emails each day, we've got some giveaways (with some incredible partners!), freebies and even a few refunded orders coming your way! 
We're kicking off Day 1 with an INCREDIBLE giveaway which I am so excited about - check our
Instagram
on 1st December to enter 💕