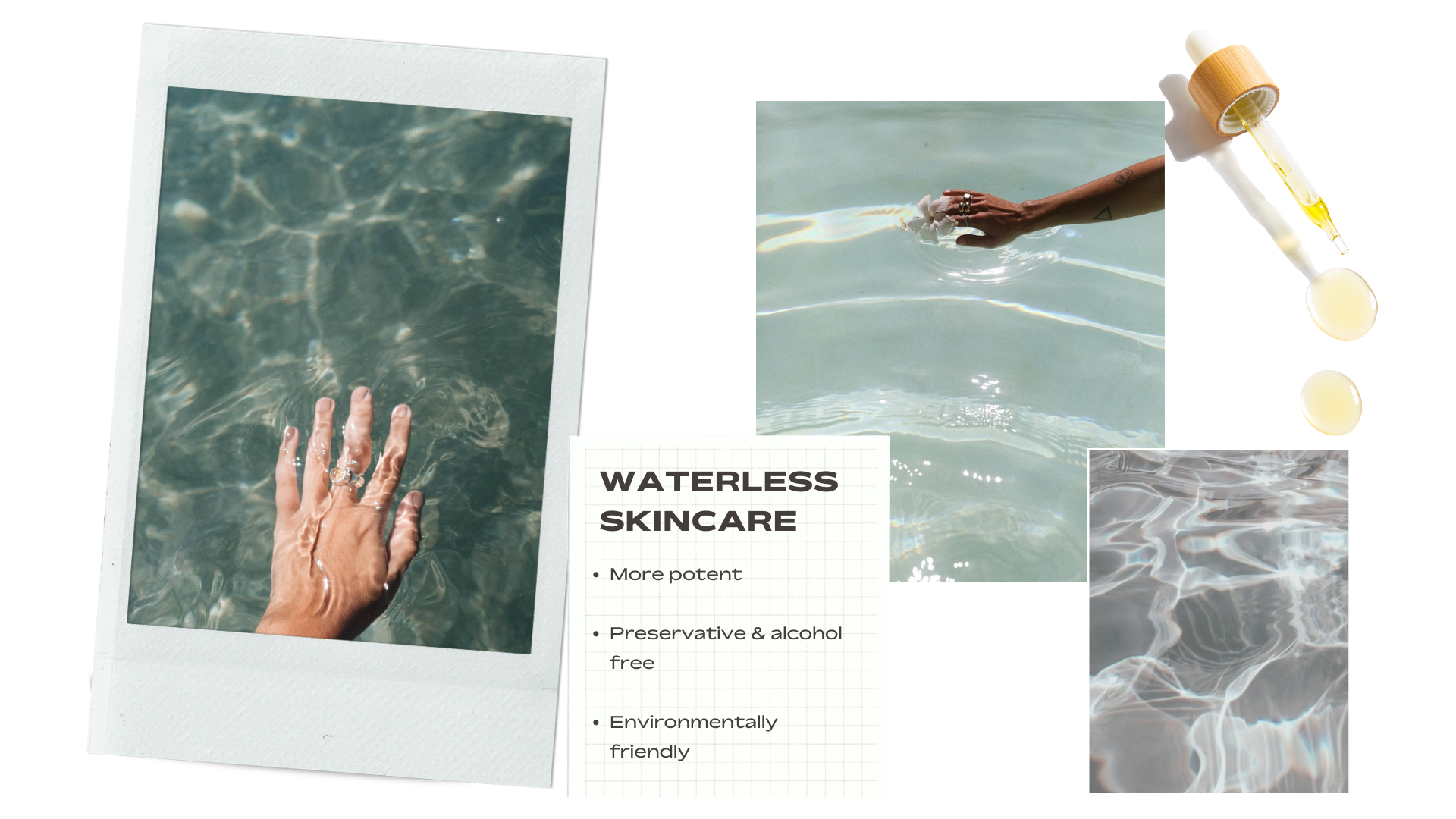 The benefits of waterless skincare
Waterless, or to use the scientific term - anhydrous products are not a new concept to the beauty market. They've been around since 2015 and were originally seen in Korea, but have become more commonplace in the form of bars, sticks and powders. 
But "waterless" sounds confusing - we all know water is incredible for our skin and we're all told to drink as much as possible – so why the hype around waterless products?
Take a look at your beauty products, I bet most of them list water (or aqua) as one of the top three ingredients. Now ask yourself, why are you paying for a product containing mostly water?
Your skincare products traditionally contain between 60 - 80% water. Not only does this mean you're getting less of the active ingredients you're seeking, it also means you're paying to have these products shipped at a heavier weight.
But let's break it down, what's the hype about waterless?
Waterless products are more potent
Waterless products are more effective in treating your skin because the active ingredients are more concentrated. For products containing water, this simply serves as a carrier, and omitting this water actually benefits your skin more. When applying these products the water can end up evaporating off quickly, stripping your skin of moisture.
Waterless products are organic and free from preservatives
Adding water to beauty products reduces the shelf life as the wet environment encourages bacteria growth over time. No water, means no need to add any preserving ingredients, which means the products are kinder to your skin, plus they're packed full of the freshest natural and active ingredients to boot.
The products also end up being cheaper to test too, as there's no need for Preservative Efficacy Testing. Saving this cost in the development stage allows us to be able to offer the products to customers for a cheaper price.
Also, any product containing water can't be 100% organic – as the water itself can't be certified as organic.
Waterless products are environmentally friendly
Water is a limited resource. Water usage when creating beauty products doesn't just stop at the products themselves, often the process of mass producing the products can use vast amounts of water too.
Water-free products are cheaper to ship, with the overall weight of the product reduced by up to 80%. When shipping products in powder form, such as in the case of our clay, the customer adds their own water to the product at home it cuts out the need to pay to ship the extra water.
Our British Pink Clay Mask comes in the form of a powder, which you then add your own water to at home to activate the ingredients and mix the mask into a paste. Each pot contains 18g of powder, and with each mask just requiring two small scoops of clay, that pot goes a long way and lasts a long time.
So why do companies continue to use water as their number one ingredient?
Simple answer – water is cheap!
It's usually the most easily accessible ingredient for skincare creators, and is used as a base carrier to dissolve other active ingredients into. When water is omitted, clays, powders, extracts and oils are used instead as the base, these ingredients all have a purpose in the product, working to penetrate the skin deeper and quicker. They are able to strengthen the skin barrier, which ultimately leads to greater skin elasticity, preventing damage and fighting against signs of aging.
There are of course products which are next to impossible to create entirely waterless, but there are many simple swaps that can be made in favour of using a waterless alternative.
Making the skincare switch to oil based products
Oils are a great alternative and can be used for multiple functions in your skincare routine.
Switch out a micellar water (which are actually prone to blocking your pores!) in favour of a cleansing oil or balm. Oils bond to the oil and dirt on your skin and make removing make up simple – the oil also serves as a barrier to protect your skin, keeping it soft and moisturised. Other removers can end up stripping your skin too harshly, removing both the good and the bad.
After applying serums, lock in those benefits with a facial oil. Our Radiance Facial Oil boosts you skin with hydration that easily sinks into the skin without leaving an oily residue.
Waterless skincare, good for your skin, good for the planet
Here at PERL sustainability is at the core of everything we do. From offering refill packaging of our clay mask in a recyclable carboard pot - to our reusable bamboo cleansing pads we strive to help our community to make those sustainable swaps in their routine. 
Education is also a key part of what drives us too. Skincare can often seem so confusing to the everyday user with so many ingredients names and conflicting information. We at PERL would love for you to think of us as your "skincare big sister" helping you navigate this world and understand your routine - and we hope now you understand what we mean when we talk about our waterless skincare range.
We're looking to add to our range of waterless skincare, so watch this space!